Films and inorganic membrane laboratory (FIMLab)
The Films and Inorganic Membrane Laboratory (FIMLab) was founded in 2006 by Professor Joe da Costa as a specialised offshoot of the University of Queensland division of the Australian Research Council Centre of Excellence for Functional Nanomaterials (ARCCFN) headed by Professor Max Lu.
FIMLab has now grown to be one of the premier research laboratories of inorganic membrane technology in Australia, focusing on applications of inorganic membrane technology such as gas separation and membrane reactors at high temperatures, various liquid separations, and desalination.
Further information on FIMLab's active research, projects, and staff can be found through the links below:
Available Projects
The following projects are available for prospective students:
Perovskite Hollow Fibre Membranes for Oxygen Separation
Metal doped silica membranes for hydrogen separation
Modelling Transport Phenomena of Gas Mixtures Separation in Membranes
The Effect of Trace Elements in Gas Separation Membranes
Membrane Reactors for Dehydrogenation Reactions
Adsorbent for CO2 within the water gas shift reaction
Novel Molecular Templated Membranes for Desalination
Research Areas
FIMLab's research projects centre around the application of inorganic membranes for fluid separation applications by utilising the inherent advantages of inorganic materials at certain conditions, including high temperature and chemical resistances. Starting with research into hydrogen purification from gasification syngas (H2/CO2/CO) and the separation of oxygen from air, FIMLab has expanded into the research areas of membrane reactors for the water gas shift reaction, ethanol dehydration, and desalination.
Silica Membranes for High Temperature H2/CO2/CO separation
Silica Membrane Reactors for Water Gas Shift Reaction
Silica Membranes for Desalination
Perovskite Membranes for Air Separation
Carbon Molecular Seive Membranes for Ethanol Dehydration
Scale Up of Membrane Reactors and Separation Units
Membrane Modelling & Simulation
Carbon Capture by Adsorption
International Collaborations
FIMLab at the University of Queensland and the Forschungszentrum Jülich (Research Centre Jülich or FZJ) in Germany - a member of the Helmholtz Research Centres, have embarked on a joint research and development collaborative effort. This project represents a strategic alliance between excellent research teams with complementary skills and expertise.
The overall aim of this project is to deliver nanostructured membranes on porous metal substrates for high temperature gas separation, this combination is hoped to address the current limitations of the technology in this field, including:
Economical and reliable sealing technology for gas tight systems operating at high temperature.
Simple scale up of membrane systems
Stability of metal oxide layers for industrial applications.
FZJ contributes to the project through their knowledge of ceramic coating technology and porous metal substrates, while FIMLab supply our nanostructured molecular sieve silica membrane technology.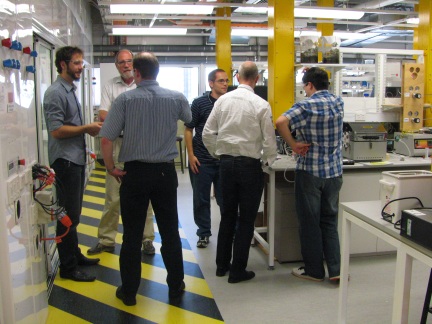 Talking to partners from Forschungszentrum Jülich in the main lab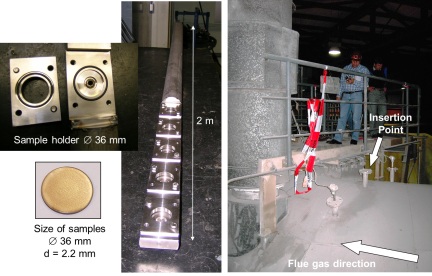 Steel substrate membrane test setup at the EnBW Rheinhafenkraftwerk Karlsruhe coal fired power plant
One of the most recent membranes to be produced through this collaboration was tested for over 1100 hours in a flue gas stream of the EnBW Rheinhafenkraftwerk Karlsruhe coal fired power plant. The flue gas stream consisted of CO2 and N2 and the membrane operated within expected parameters at all times. These results are extremely promising and demonstrate the strength of the research teams involved.
FIMLab supports our PhD students in visiting other universities and research centres. This helps to expand their knowledge, world view and offers them a chance to work with other world experts in the field outside their normal environment at UQ. This collaboration with FZJ has so far seen three PhD students spend time at their partner institute (two students from FZJ have visited FIMLab and one student from FIMLab has visited FZJ). Images from:
Presentation by Martin Bram and Wilhelm Meulenberg of FZJ
Brands, K., Uhlmann, D., Smart, S., Bram, M. and Diniz da Costa, J. C. (2010) Long-term flue gas exposure effects of silica membranes on porous steel substrate. Journal of Membrane Science, 2591-2:110-114
Group Leaders
Research Staff
Dr Christelle Yacou, Postdoctoral Research Fellow
Dr Julius Motuzas, Postdoctoral Research Fellow
Dr Dana Martens, Postdoctoral Research Fellow
Dr Weng Fu, Postdoctoral Research Fellow
Dr Benjamin Ballinger, Postdoctoral Research Fellow
PhD Students
Charmaine Lamiel
Mark Hodgson
Craig Jacobson
Christopher McMahon
Sara Zeinal Zadeh
The students and staff are encouraged to attend an international conference relevant to their research area.
In particular each phD student is afforded to attend at least one international conference as a part of their study. FIMLab has shown a continued presence at membrane conferences such as:
13th International Conference on Inorganic Membranes (ICIM), Brisbane, Australia, 6-9 July 2014
8th International Membrane Science and Technology Conference (IMSTEC), Melbourne, Australia, 25-29 November 2013
Euromembrane 2012, London (United Kingdom), 23-27 September 2012
2nd Annual Early Career Researchers Membrane Symposium, South Australia, 23-25 November 2011

​
Attendees of the International Conference on Inorganic Membranes (ICIM) in Tokyo, Japan, 18-22 Aug 2008, including Prof. Joe da Costa, Dr. Simon Smart, Dr. Suraj Gopalikrishnan, Dr. Tsutomu Tasaki; students Scott Battersby, Adrian Leo, David Uhlmann, and Jaka Sunarso; and previous postdoctoral researcher A/Prof. Mikel Duke.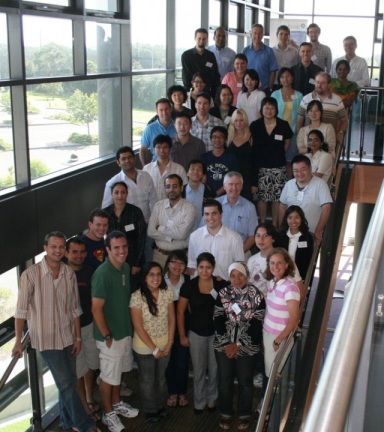 ​
Attendees of the Membrane Society of Australasia Student Symposium, in Wollongong, Australia, 18-20th Feb 2010: including FIMLab students David Uhlmann, Jaka Sunarso, and Patrick Haworth​
At FIMLab, we have two laboratories:
the main lab (or "level 5") dedicated to membrane synthesis, permeation testing, and the characterisation of membranes and xerogels
the wet chemistry lab (or "level 3") dedicated to sol-gel and hollow fibre synthesis
We have an extensive range of membrane research equipment in the laboratories as listed below, but as we are located at the St Lucia campus of the University of Queensland we also have access to a wide range of other university facilities and analytical techniques. This includes state of the art microscopy and microanalysis techniques through the Centre for Microscopy and Microanalysis, and the expert manufacturing processes of the Chemical Engineering workshop and the University Glass Blowers for the production of custom equipment.
People interested in using our facilities and/or collaborating with us should contact Prof Joe da Costa or Dr Simon Smart.
FIMLab Laboratory Equipment
Standard synthesis equipment of:
Filtered (dust-free) air cabinet
3 dedicated synthesis furnaces
5+ membrane testing furnaces
Planetary ball mill
Weight press
Standard analysis equipment for:
Thermogravimetric analysis (TGA)
Fourier transform infrared spectroscopy (FTIR)
Ultraviolet-visible spectroscopy (UV-Vis)
Gas chromatogrophy (GC)
Nitrogen adsorption
Digital optical microscopy
Our custom made rigs for:
Dip coating
Hollow fibre production
Single gas permeation
Multi-gas permeation
Oxygen permeation
Vapour adsorption
Desalination
And the safety features of:
State-of-the-art reticulated gas system
3 Large walk-in fume cabinets
4 Benchtop ventilation extraction points
Lab atmosphere monitoring of H2, O2, CO, CO2
Automatic and manual shut-off systems
Safety showers
Standard synthesis equipment
Our wet chemistry lab is where we get down and dirty and actually make most of our membrane materials. From their most basic ingredients, all the perovskites and hollow fibres are manufactured in this lab as are the sol-gels for our metal silica membranes.
In the main lab we then dip coat and set our membranes using high temperature furnaces within the safety of the large fume cupboards, and subsequently we can then analyse and test our formed membranes and membrane reactors. As the manufacture of our metal silica membranes requires a dust free environment, all dip coating processes are perofrmed within a filtered air laminar flow cabinet.
Standard analysis equipment
The desired traits of our experimental membranes can be approximately analysed before the often cost and time intensive process of gas permeation testing. In particular a quick analysis of the nitrogen adsorption of membrane material will indicate the porosity and comparative pore widths of a membrane.
From these initial screening techniques, selected membrane compositions and synthesis techniques are taken to testing for gas or liquid permeation testing. Afterwards these standard analysis techniques help give an understanding of the processes behind membrane success and failure, particularly when taken in context with the standard analysis of membranes as reported in literature from other research organisations.
Gas chromatography is here a special case, as gas chromatography is used to analyse the composition of gas streams of a currently running gas separation membrane experiment.
Custom made rigs
Utilising both our own knowledge of hammers, drills, and swagelok, and the considerable experience and equipment of the Chemical Engineering workshop, several highly specific yet flexible rigs have been created for hollow fibre production, gas permeation testing, desalination, and even vapour adsorption.
In particular, our multi-gas permeation rig is designed to mix and measure (with both rotameters and mass flow controllers) gas flow, of a wide variety of different gases including H2, He, N2, Air, CO, CO2, O2and custom mixtures.
These rigs often require not only specialised hardware, but also software: the single gas rig, oxygen permeation rig, and vapour adsorption rig all having custom code written by PhD students to interface the rig hardware with controls and data collecting software.
Lab safety features
FIMLab's main laboratory boasts state-of-the-art gas safety equipment, where all gases are reticulated into the lab from cylinders located in gas cylinder cages at the foot of the Chemical Engineering building. These gases can then be used from gas valve stations located on the laboratory benches and within the 3 large walk-in fume hoods.
The gas extraction system of the lab is capable of aggressively extracting all of the more dangerous gases used only within the fume hoods, and also from 4 gas extraction points located along the lab benchtops. The pressure difference created by this extraction system is enough to make closing the front lab door noticeably more difficult as air tries to rush into the lab.
This reticulated gas system is connected to an automatic and manual shutoff system capable of shutting off all gases and shutting down all power to the lab with the exception of the fume hood extraction fans, to quickly stop and remove all reticulated gases in use.
Team Location
Level 3
Don Nicklin Building (74),
The University of Queensland
Postal Address
School of Chemical Engineering
Building 74, Don Nicklin Building
College Road
The University of Queensland
St Lucia QLD 4072 Australia.