Undergraduate Coursework
The Chemical and Metallurgical Engineering double major program at The University of Queensland alone has been contributing one third of the graduates to mineral and metallurgy industries in Australia every year. UQ has been ranked number 10 in mineral and mining engineering and number 25 in chemical engineering in the world.
Together with academics from hydrometallurgy and mineral processing groups, staff members from the Centre have been actively involved in undergraduate teaching in a number of essential subjects in metallurgical engineering including mineral processing, chemical thermodynamics and pyrometallurgy. Specifically tailored co-education programs are also available for students partner universities from China, Indonesia, Malaysia, Vietnam, Brazil, India.
Contact
For more information, visit the Chemical and Metallurgical program page.
International student information can be found on the EAIT International Students page.
---
Postgraduate Research
For students who are interested in Masters or PhD program in pyrometallurgy field, the Centre offers world-class laboratory and analytical facilities alongside high quality supervision. Research projects available to postgraduate students range from fundamental study to implementation of existing research outcome to industrial practice.
Contact
For more information about postgraduate research opportunities at UQ, contact: Professor Eugene Jak or Professor Peter Hayes.
---
Professional Education
The Centre organizes the courses on the principles of thermodynamics, phase equilibria and pyrometallurgy for process engineers, metallurgists and operators.
The FactSage computer software is widely used in research and process development. The Centre provides professional training of research and plant staff on the use of the FactSage computer package to simulate high temperature process. The course material is specifically selected to suit the needs of the audience. Examples of the FactSage applications relevant to the company or organisation are prepared. A series of Introductory, Intermediate and Advanced courses are prepared in on request.
On-site and distant education is possible.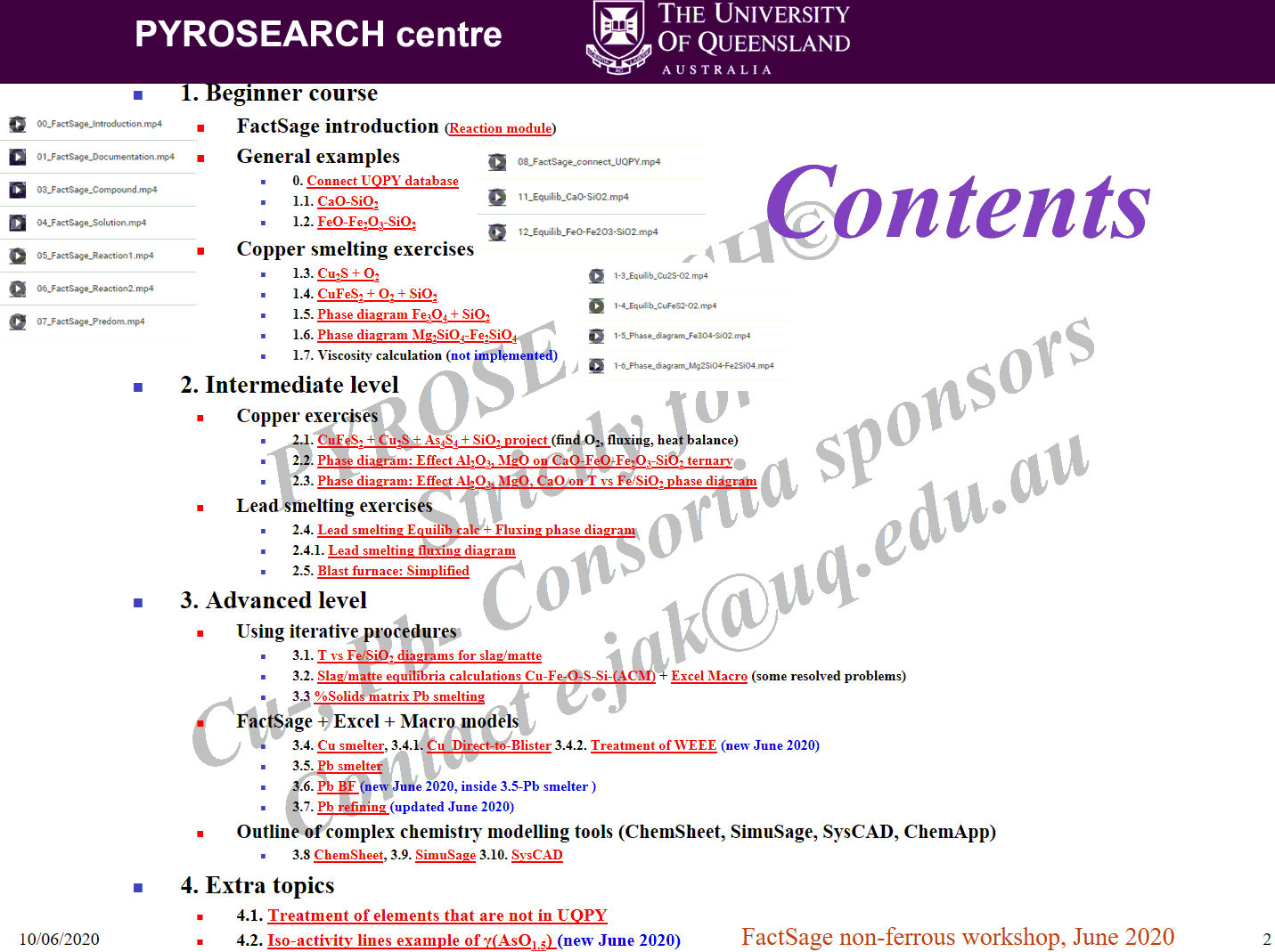 Contact
For more information, contact Professor Eugene Jak.