Minerals processing engineers from The University of Queensland are the first university researchers to be recognised by industry with two excellence awards.
The Australian Coal Industry's Research Program (ACARP) recognises high achievers at the Research and Industry Excellence Awards which previously have been awarded to industry recipients since they commenced in 2007 – until now.
Professor Yongjun Peng and his team received the award for continuous excellence on numerous ACARP projects producing exceptional targeted research.
"I am extremely honoured to receive such an important award which showcases research leadership and impact," Professor Peng said.
"As the team leader, I am proud to say that we have evolved into a family from developing initial ideas to implementing new technologies under each of the ACARP projects."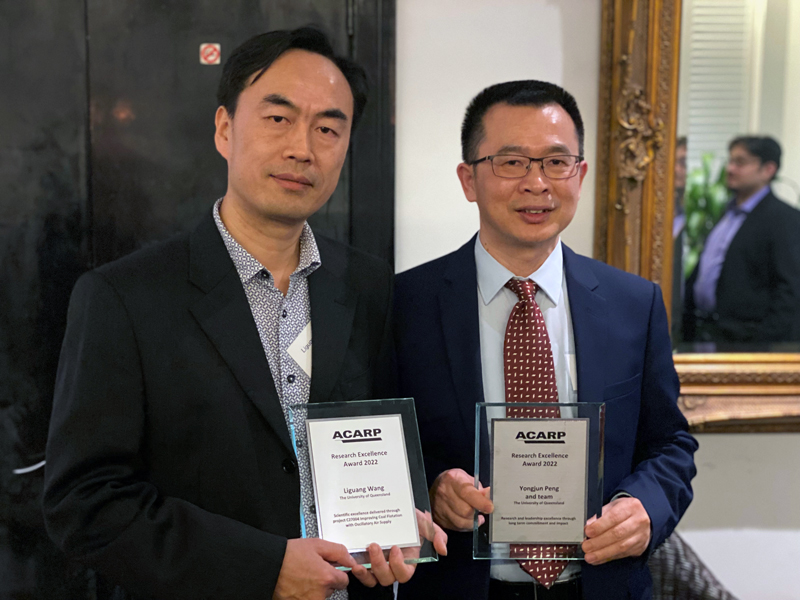 Dr Liguang Wang was also recognised for improving coal flotation with oscillatory air supply, which will deliver a measured increase in coal recovery and lower energy consumption of existing equipment.
"This award is a great recognition of my long-running partnership with industry and collaboration with Prof Will Zimmerman of The University of Sheffield in the UK," Dr Wang said.
"I deeply appreciate the efforts from current and past members of my team, especially Dr Hangil Park, Dr Junyu Wang, Dr Chun Yong Ng and Dr Chao Li."
Head of the School of Chemical Engineering, Professor Justin Cooper-White congratulated the teams on their success and high level of research.
"This is a wonderful outcome and a great example of engagement excellence with industry" Professor Cooper-White said.
Past recipients of the ACARP Research Excellence Awards can be viewed online.