The Trevor and Judith St Baker Family Foundation donated $1.5 million to fund a visiting fellowship at The University of Queensland's Dow Centre for Sustainable Engineering Innovation – a gift that will advance environmentally friendly transport options.
Mr St Baker is renowned for his investments in innovative technologies that are environmentally sustainable and economically beneficial.
Since founding one of Australia's largest energy retail and generation companies, ERM Power Limited from  an energy consulting practice and family-owned enterprise, Mr St Baker has gone on to fund innovative companies that are moulding the future of power in Australia.
Mr St Baker said he believed Australia's transition to a sustainable low-emission electronically driven energy industry required a wider range of research, development and technological leadership.
"The electrification of the transport sector has the potential to radically change how people procure and manage energy resources for all their needs," he said.
"We want to continue to ensure the best and brightest minds in Australia are given optimal opportunity to be part of the global knowledge economy in the transport sector, and to shape a sustainable future."
A long-term supporter of UQ, in 2017 Mr St Baker became a board member for UQ's Not If, When philanthropic campaign which aims to raise $500m for priority projects by the end of 2020.
"My wife Judith and I are proud to support an initiative that will promote international collaboration and growth in a sustainable energy industry in Australia," he said.
UQ Vice-Chancellor and President Professor Peter Høj said the gift would accelerate Brisbane's position as a hub of electric vehicle charging technology and manufacturing.
"Thanks to the generosity of Trevor and Judith St Baker, UQ will continue to develop promising green energy technology here in Brisbane," he said.
"The visiting fellow will contribute to the global research initiative Rapid Switch Project, finding solutions to help reduce global reliance on carbon-based fuels and products.
"This partnership exemplifies the cross-disciplinary nature of the green technology research that UQ is involved in alongside our partners in education, industry and philanthropy."
Rapid Switch is an international network originated at the UQ Dow Centre which seeks to identify, anticipate and communicate industrial, regulatory and social bottlenecks and constraints that might impact the pace of decarbonisation of the global economy. The intended impact is better-informed public policy and private investment decision-making.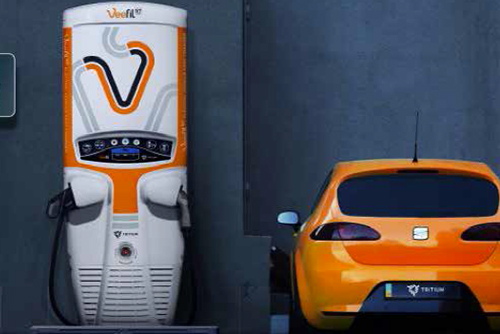 The e-Mobility Visiting Fellowship is proposed to be named after Tritium,  a Brisbane-based e-mobility company and manufacturer of electric vehicle chargers, of which Mr St Baker is the Chairman and Director.
Tritium exports to 24 countries, but its manufacturing has remained in Brisbane, providing opportunities for a wide-range of professionals developing technologies for the uptake of e-mobility.
The St Baker Energy Innovation Fund, the UQ Dow Centre and Tritium will collaborate to help make the fellowship a success.