As the world transitions towards the integration of bioplastics into a more sustainable plastics economy, there is a real opportunity for Australia to transform our existing plastics industry, and to become a major global bioplastics player within the next decade.
The ARC Training Centre in Bioplastics and Biocomposites will develop industry-ready specialists to underpin Australia's transition to a globally significant bioplastics and biocomposites industry.
Find out more here.
We will achieve this through:
Delivering advances in technology for the development of bioplastic and biocomposite products for the new bioeconomy;
Training a cohort of industry‐ready researchers, laying the foundations for accelerated growth in Australia's bioplastics and biocomposites industry; and
Establishing linkages between leading research groups and partner organisations to strengthen the capabilities of Australian industry to service rapidly growing local and international markets in bio-derived and biodegradable products.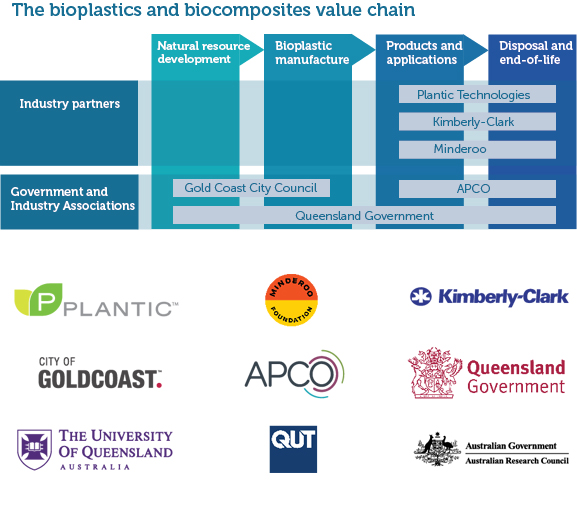 Queensland is the hub for world-leading research in bioplastics and biocomposites
Chief Investigators
Investigators
Director – A/Prof Steven Pratt (Training Centre Director) The University of Queensland
Theme 1 – Prof Ian O'Hara, Queensland University of Technology
Theme 2 – Prof Paul Lant, The University of Queensland
Theme 3 – A/Prof Bronwyn Laycock, The University of Queensland
Theme 4 – Prof Helen Ross, The University of Queensland
Prof Peter Halley, The University of Queensland
Dr Marguerite Renouf, Queensland University of Technology
Prof Darren Martin, The University of Queensland
Dr Luigi Vandi, The University of Queensland
Dr Adrian Oehmen, The University of Queensland
Prof Kevin Thomas, The University of Queensland
A/Prof Paul Jensen, The University of Queensland
Dr Laleh Vash, Queensland University of Technology
Dr Anna Phelan, The University of Queensland
Prof Kathryn Fairfull-Smith, Queensland University of Technology
Prof William Clarke, The University of Queensland
Dr Severine van Bommel, The University of Queensland
Prof Peta Ashworth, The University of Queensland
Partner Investigators
Mr Peter Brisbane, Australian Packaging Covenant Organisation Ltd

Dr Manuel Brunner, Minderoo Foundation

Mr Michael Burke, Queensland State Government

Mr Ethan He, Kimberly-Clark Australia Pty Ltd

Dr Katie Macintosh, Council of the City of Gold Coast

Adj A/Prof Nicholas McCaffrey, Plantic Technologies Limited

Dr Alan Werker, Promiko AB